Welcome to Ferma Workshop Center in Crete
We are proud to offer our sea front villa for a perfect seminars, workshops and retreats.
The Center was established for the seekers of body & soul awareness, self-development empowering, nature and art. The Center overlooks one of the most breathtaking coasts of the Mediterranean and is ready to host seminars, events and festivals.
The Center provides all necessary information about the surrounding natural delightful treasures, known-to locals tavernas, beaches, tour tracks, cruising and all other logistics to make a perfect stay.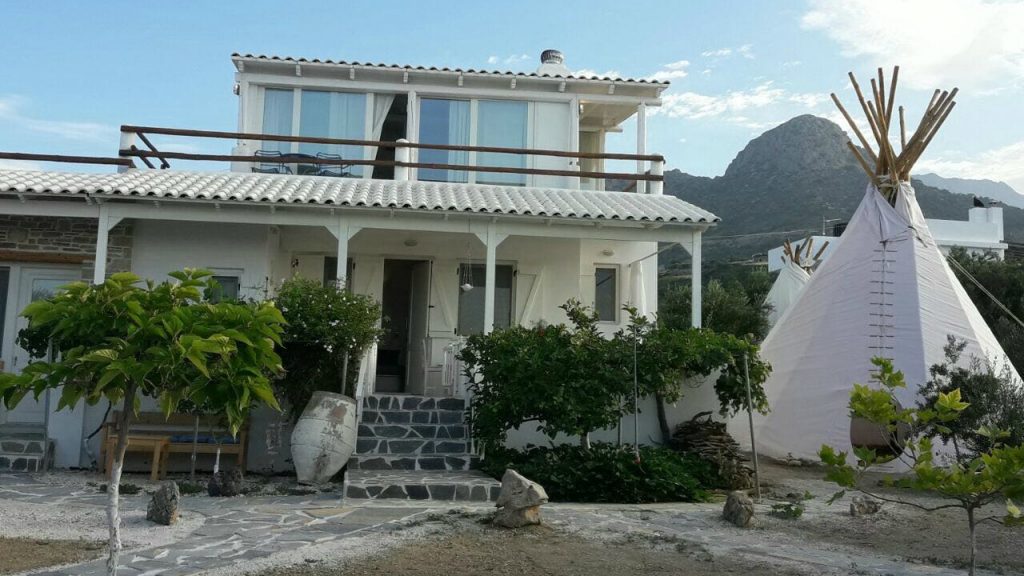 You are most welcome!
Please contact us here
The Main House
The main house divides in two separated residential wings, which contains 7 beds in 3 rooms, 3 bathrooms, 2 kitchens and 2 sitting area that can be used as 4 beds.
Working Studio
A large working studio, 50 m2 + bathroom, viewing the wonderful Ferma bay, can also be used as a common bed room.
Balcony
A common sea view balcony serves as the dining area.
Wooden Cabins
Two wooden cabins, air conditioned, with en suite bathroom and shower, isolated from home, facing the sea.
Tipies
Two Indian ambient tipies use as sessions area and can also be used as a common bed room and have external bathroom.
It is possible to use the olive grove as a tents area.
The Yard
1,000 sqm yard designated for working, meditation and seclusion area, enjoying hammocks, bio vegetable garden, a fresh water well and the inspiring sea view and sea roar.
Private Beach
A private decked beach for working, meditation and seclusion and fun, surrounded by rocks, natural access to the water and clay for art therapy.
* If needed, more participants can lodge in the nearby studio apartments.
The Workshop Center is located in Ferma in south east of Crete, 75 min from Heraklion airport, a few min drive from all amenities (city of Ierapetra).